Working Together: Friendship, Family and Small Business
Yes, it's that time of year again! Whether you look forward to or dread the approaching holiday season, it is an opportune time to honour the people we love with things that they might love. And during this challenging economic period it's encouraging to see small businesses helmed by friends and/or family remain steadfast or search for new ways of persevering without sacrificing quality or personal attention to customers. The support and inspiration of friends and family cannot be discounted, especially in the arts, which doesn't benefit from the same apparatus as more steady professions. Close partnerships often result in products that are just a bit more special because of the environment they were created in.
---
Kelli Kadokawa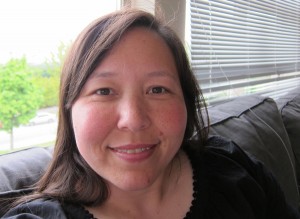 Just from taking a cursory glance at Kelli Kadokawa's website which features furniture, kid's clothing, stationery and more, it appears that she is able to make everything. "Well, not everything," she demurs. Recently her focus has shifted to illustration while raising two kids and working in administration at the UBC Faculty of Medicine. Her background is mainly in furniture making but also sculpture and printmaking. She received a bachelor's degree and a master's degree in furniture making from San Diego State University and the University of Wisconsin, respectively.
Born in Honolulu, Kadokawa lived in other parts of the United States before settling in Vancouver twelve years ago with her husband. She returns often to visit her father's Japanese side of the family in Hawai'i and credits her paternal grandmother with influencing her artistic path and of whom she speaks with obvious love. She was a talented embroiderer and also made zabutons, flat pillows for the floor, some of which have been passed on down to Kadokawa in their unfinished state. Kadokawa's mother, who met her future husband on the beach while vacationing in Hawai'i, is also a gifted fabric artist and an enormous influence as well. (Her fabric bowls can seen on the website.) "The apple doesn't fall far from the tree," Kadokawa says fondly.
artistgirlfriday.com
---
nandemo kandemo
The ongoing question of "How can artists make money?" is addressed by Asa Mori and Cindy Mochizuki of nandemo kandemo. They are launching a series of quarterly pop up events beginning with a holiday sale on December 1st at the Russian Hall in Stratchona. nandemo kandemo, which means anything and everything, will feature other local artists and artisans including Kathy Shimizu, Barb Yamazaki and Saori Yamamoto.
Mori was born in Nozawa Onsen, a resort town outside of Nagano, famous for hosting the 1998 Olympic biathlon. It's a small town with a population of about 5000 where, as Mori says, "Being an artist wasn't really a concept." But her mother was an early influence, taking her to visit art galleries. (Both parents are still very supportive of her art career.) As a teenager, she came to Canada at the invitation of a family friend to join a homestay program and was "a bit mortified" to be placed in Surrey. Undaunted, she endured the long Skytrain train to downtown Vancouver to see independent movies at the Cinematheque. She realized Japan, with its indirect communication style and uniformity wasn't the place to return to if she wanted to assert her individuality and continue her trajectory in the arts.
Mori eventually attended the Nova Scotia College of Art & Design and graduated with a degree in Media Arts.
At screenings people would ask her whether the fimo figurines she used in her animated films were for sale. Though it's not exactly going into competition with Disney, nandemo kandemo offers Mori a chance to sell her wares to a niche market. Unlike a craft fair that appeals to the general public, curating complementary artists can also target a larger cross section of like-minded consumers. To save on costs, almost all their promotion is done with social media and e-flyers. Mori says she and Mochizuki are a good team because they have different sets of skills. "Cindy is very talented with creating ideas and putting them in motion and I'm more technically savvy." Asked about the logistics of mounting the sale, Mori laughs. "We're multimedia artists so we're used to putting on events."
asamori.ca  |  cindymochizuki.com
---
Republica Coffee Roasters
Friends since they were teenagers, Hiro Tsujimoto's and Rick Masana's lives converged further when they decided to launch Republica Coffee Roasters in 2010. (Masana is also married to Tsujimoto's sister Michiyo who helps with the business.) Their organic, fair trade coffee is roasted in Fort Langley and sold through a café in the same location and a takeout window on Robson Street. It was through Masana's family in Chiapas, Mexico that they both learned the art of premium coffee roasting. They lived and worked on a coffee farm for two years and studied the intricate process of planting, growing, harvesting the "perfect cherry" or bean, drying, cleaning and then roasting the final product to make the optimum cup of coffee.
At Republica, each bag of coffee is stamped with the roasting date to ensure freshness. Most coffee companies will only show an expiry date to guarantee a long shelf life. But according to Masana, the best time to use coffee beans is between three to seventeen days after roasting. Coffee needs a few days after roasting to allow the flavour to bloom and will become stale after thirty days no matter how it's packaged.
Another old friendship led Shogo Higashio to join Republica as the owner of the Robson Street location. As children, he and Tsujimoto had attended the same kendo dojo and they are both Vancouver Japanese Language School alumni. He followed Tsujimoto's progress while he was working in IT in Tokyo and ultimately moved back after the Tohoku earthquake.
An avid coffee drinker, Higashio was always on the lookout for new artisanal beans, but was never completely satisfied. He "personally found (Republica coffee) an amazing product." He was impressed with Tsujimoto's business sense, which is very community-oriented, but also with his passion and how much care went into Republica beans. To gain more exposure, a small space was leased from Konbinya on Robson Street and the takeout window was opened last summer where demand continues to grow.
republicaroasters.com
---
Master Framers + Kikori Japanese Antiques
When Audrey Nishi's father walked into Master Framers in 2001, he didn't expect to see his niece in a framed photo of owner Sunny Chin's family. It turned out that his niece had married into the Chin family. Chin, by chance, was looking for someone to take over the business and Audrey's father stepped in. Another daughter, Vivien, initially ran the business and then Nishi joined soon after. Eventually Nishi's sister left to focus on her work in the film industry.
Nishi was born in Bow Island, Alberta where her parents had started an agriculture farm after the internment. She received a technical theatre degree in Edmonton before moving to BC and graduating in textiles from Capilano College in North Vancouver. Despite the proliferation of ready made frames, Nishi has managed to offer quality, custom work for over ten years. "Usually it's 'My aunt is coming to visit and I need to get (her gift) on the wall'." But she also takes on jobs that only custom framing can accommodate. Recently, she assembled a shadow box of Judas Priest memorabilia including a t-shirt, CD and tickets for two fans who had gone backstage after a concert to meet and pose for a photo with the band.
With 1400 square feet of space and mindful of overhead costs, Nishi started to look for someone to share the space with. By coincidence her sister was visiting Port Moody and suggested Kikori, a Japanese antique furniture shop there run by Carol Yamamoto and business partner Russ Gray. Kikori moved into the front portion of the store in 2005 and Yamamoto says, "We get along great. We take time to cover for each other."  Nishi concurs. "There's usually two people on site for security. It's pretty complementary."
It was also coincidence that brought Yamamoto and Gray together in 1999. Yamamoto's husband had started an aikido dojo in Langley two doors down from where Gray had set up a custom Japanese furniture business. They discovered they were both from Burlington, Ontario and that their parents had known each other. Gray and Yamamoto's husband even had the same kendo teacher in Toronto. Yamamoto had trained in the art of byobu (folding screens) and kakejiku (hanging scrolls) while working in Tokyo as a translation rewriter. Gray had also studied in Japan but with a daikusan (carpenter) in the countryside near Kyoto for four years, specializing in custom interiors.
Kikori carries furniture mainly from the Edo (1603-1868) to Taisho (1912-26) periods with some Showa (1926-89). Gray continues his custom work with shoji panels and furnishings in the Edo and Meiji (1868-1912) style.
Rent is doubling at their current location and all three are starting to look for a new space. Most likely they will be moving together.
Master Framers, 2603 E Hastings St, 604 251 3833  |  kikori.ca