Interview: Takashi Yamada and Natsuko Fukushima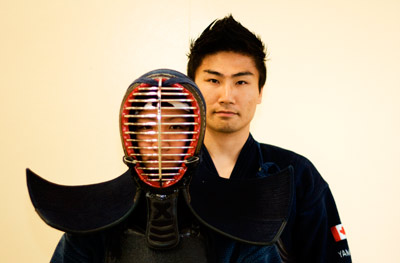 Takashi Yamada and Natsuko Fukushima are long-time members of the Vancouver Kendo Club. Both were recently chosen to join the Canadian National Team and will compete in the 14th World Kendo Championships to be held a year from now in Sao Paulo, Brazil, August 26-31, 2009.
Takashi Yamada was born in Japan but immigrated to Canada with his family when he was five years old. At the urging of his mother, who did kendo in Japan, he and his two younger sisters took up the sport. Currently, Takeshi, his mother, and his youngest sister practice on a regular basis. He serves as President of the Vancouver Kendo Club.
Natsuko Fukushima was born in Vancouver and took up kendo when she was seven, joining the Vancouver Kendo Club. "My mother took me to practice one day to watch. There were lots of children around my age practicing so I became interested."
You both began practicing kendo when you were young. Did you take to it right away or did it take a while?
TAKASHI: I started practicing when I was six. It took a while for me to get into it, partly because I was interested in many other sports as well, but having good friends and teachers in the club kept me in it.
NATSUKO: Besides kendo, I started attending Japanese school and taking piano, violin, skating, swimming and other lessons around the same time. Most of the lessons didn't interest me for long. Kendo was the only thing I really got into seriously. Kendo taught me not only the martial art but also the way to live, the discipline of yourself, friendship and lots of other things. Kendo has taught me so many things. By continuing kendo for so long, it let me gain so many life experiences. It is a big part of my life.
Tak, you mentioned that your mother is a kendoka. Was it expected that you follow in her footsteps? Is Kendo popular among women or is it mostly men?
TAKASHI: She started kendo when she got into elementary school because her older brother was practicing it at that time. She then kept it up until the end of senior high school (grade 12). She decided to put us into kendo because she wanted us to grow up with a sense of Japanese culture and she thought that kendo will not only teach us about Japanese culture but at the same time strengthen both the mind and the soul. Although not as popular as among men, kendo is fairly popular among women. Especially in our club, we have a large number of women, sometimes outnumbering the men. In our dojo alone we have over four members that are candidates for the Canadian national women's kendo team.
Almost all of the other martial arts stress hand to hand combat, with the occasional use of a weapon, and kendo is the only martial art that uses armour or protection along with a sword. Does this help in its popularity or hinder it?
TAKASHI: At first, people find the armour attractive but as with all martial arts, it takes a long time to master the basics. Hence, the long process is where some lose their interest. Many people come into it thinking that they will be able to jump into combat right away but in reality, it may take months if not years until any sparring happens.
Tell me about the equipment.
NATSUKO: Kendo uses a long bamboo sword called the shinai. We wear dougi and hakama made of cotton. On top of that we wear full armour. It is very heavy and takes time to get used to. But it is modernized and I think it is lighter than in the samurai days. Kendo is a martial art that uses a sword to attack the opponent, so it is very different from the popular judo or karate. But I think it makes it look very unique.
In Wikipedia is says, "Kendo is one of the modern Japanese budo and embodies the essence of Japanese fighting arts." Do you think this is true, if so, why?
TAKASHI: I agree with the statement that it "embodies the essence of Japanese fighting arts" but I disagree with it being modern. It has a deep history stemming back hundreds and hundreds of years. If I were to go into Wikipedia to change this I would change the word "modern" to "traditional."
Superficially, there are some resemblances to fencing, but kendo is very different. Explain what kendo is.
TAKASHI: Kendo is considered a martial art rather than a sport in that greater emphasis is placed on strengthening the mind and soul instead of focusing on physical excellence. Furthermore, in kendo, to get a valid point, you need the right intensity, the right posture, and the correct strike. It is extremely vocal and physical as well. It is enjoyed by people of all ages (starting at around six years old all the way to 80s and 90s). It is one of those activities where youth is not necessarily an advantage. I have seen many people in their 20s or 30s being tossed around by someone in their 80s or 90s. Hence, people may describe kendo as a form of `Japanese fencing` but I believe there are more differences than there are similarities.
NATSUKO: Fencing is sword fighting in which you are in a straight line and you are targeting mainly the chest areas. Kendo is targeting the head (called men), wrist (kote), side body (dou) and throat (tsuki). In a match, we fight in a court.
How much attention is paid to the philosophical/spiritual aspects of kendo? Do you personally see it more as a sport or as a spiritual path?
TAKASHI: Great emphasis is laid on the philosophical and spiritual aspects of life in kendo. I definitely see it as more of a spiritual path. In kendo great emphasis is placed on discipline, respect and honour. The focus is not on winning but always respecting those that you fight with, even when you turn out victorious. Kendo strengthens the mind and soul, and without it, no matter how great one's kendo ability, that person is not highly looked upon. One example is, if you get a point in a kendo match and you celebrate it (ie. what hockey players or soccer players do after scoring a goal), you get that point taken away. This is because celebrating is seen as "not respecting" fellow kendoka (kendo players). There is constant talk that kendo should become an Olympic event. However, many fear that if this happens it will take a way from the martial art aspect of kendo and simply transform it into a sport rather than a way of life.
NATSUKO: Kendo trains my mind, spirit and body. It lets me discipline and focus on myself. I think it is more than just exercise. When we go through tough practices I feel stronger as a person physically and mentally and I can feel confident outside of kendo as well.
You have both been selected to join the Canadian team. What does this entail for you?
TAKASHI: I think it is a great honour to be selected onto the team and with it comes great responsibility. I plan on training hard for my team mates, my country and most importantly for those that supported me in getting here. As a dojo leader, hopefully I can take this experience to view kendo at a global level and start interacting with many other kendoka from across the globe.
NATSUKO: I have been selected to join the Canadian team for the third time. I participated in 2003 in Glasgow Scotland and in 2006 in Taipei, Taiwan. Our ladies team got third place both times. We have done very well in the past as well. This means a lot to me. Since we have a strong reputation, I feel that we need to pass this to the generation to come and educate the younger ones so that we always have good results.
Will you actually practice with the team under a specific coach, or do you practice with your own dojos and then join the team for the tournament?
TAKASHI: There is a men's coach and a women's coach. The men's coach is in Toronto so we do communicate occasionally through e-mail and the phone but it is pretty much in our hands to keep in shape and manage our condition. We have the support of various senseis (senior instructors) that guide us and advise us along the way. Before the world championships in August 2009, we will have training camps where all the members come together from across the country.
Young people have so many distractions these days—is there something that kendo offers that can draw them away from their Wii and computers?
TAKASHI: As good as the Wii fit may be, kendo will be the way to get fit and at the same time becoming mentally fit. In kendo, you will gain mental and physical coordination and the ability to quickly respond to unpredictable situations. Focused around gaining mental focus, harmony and discipline, what you gain through kendo will most likely transpire through many aspects of life. In addition, there are kendo dojos globally and it is a great way to make friends all over the world.
NATSUKO: Kendo is great for getting your mind clear from everything else. When I am practicing, I only focus on myself. Breathing, muscle movements, footwork, arm movements, kiai (voice), the strike. Everything. These days people need a good stress reliever to clear the mind. Computer games are fun. But I think it is important to move your body even more and concentrate on yourself.
Is it critical to start kendo young or can you begin as an adult and gain a high level of expertise?
TAKASHI: Although it is beneficial to start kendo when you are young, I personally have seen many parents start with their children and gain a high level of expertise. It is a matter of how hard you practice and how committed you are.
NATSUKO: I think easier for one to teach kendo to younger children. Children can learn fast. They can learn the movements faster than adults because children can learn with their body. But even if you start later, if you have a will to learn, I think you will be quite good. Everyone has a different reason to practice kendo. Different goals. You just have to find one.
Are there certain qualities that make one person a better kendoka than someone else? Is there a certain kind of personality that is better suited to kendo?
TAKASHI: Like in any organization (sports, clubs, work etc) the committed and hard working ones will be better suited for kendo especially since in the beginning as they cannot simply come in and put on all the equipment and get started. There is a long period where constant practice of the footwork or the correct form of swing is required. It is those that are patient and can get through that stage that persevere in kendo.
NATSUKO: I think there is no such thing as a better kendoka than somebody else. I think we are all different. One might win a match. He or she could be strong skill-wise. But I don't think that will make that person better. Everybody has different goals in kendo. Mine just happens to be to WIN. I think if somebody reaches their own goal in kendo, it makes that person successful. Once you reach a goal, you make yourself another one. Kendo to me is a life-long journey.
You are trying to attract more kendo practitioners. What would you say to our readers to encourage them to try kendo?
TAKASHI: It is a great way to stay fit and experience Japanese culture. We are a non-profit organization and everyone is a volunteer. In that sense, membership fees are reasonably priced (you can check this out on our website www.vancouverkendoclub.com). If you are looking for a family event, this can be great as well. Kendo can be enjoyed by all ages, generally beginning at the age of six. Hence, if you want to experience something more than just a sport, a way to learn respect and teamwork, this may be ideal for you.
Talk about your dojo – what makes it special to you?
TAKASHI: To me the Vancouver Kendo Club has become a part of my life and in a sense a lot like family. Many of us in the dojo have grown up together and have pushed each other along the way. Vancouver Kendo Club is extremely family oriented as well in that many times, when an individual in a family joins, the entire family ends up joining. Over the years, this has created a close social network with everyone being supportive of each other. Our dojo is extremely welcoming as well and we have visitors from around the world come practice with us on a regular basis. All in all, it is special to me because of the great people that make up the dojo.
Vancouver Kendo Club
Head sensei: Chouzaburo Isa.
Membership: The Vancouver Kendo Club takes in beginners in September and April in order to ensure that they are taught good fundamentals during the crucial early stages. People with kendo experience (3-kyu and above) can join at any time of the year.
Practices
Open Practice: Mondays, 7pm to 9pm.
MacCorkindale Elementary School
6100 Battison St., Vancouver.
3-kyu and Over: Thursdays, 8pm to 10pm.
Charles Rummel Centre, 3630 Lozells Ave., Burnaby.
Open Practice: Fridays, 7:30pm to 10pm.
Charles Rummel Centre, 3630 Lozells Ave., Burnaby.
People are encouraged to come out to a practice to see what kendo is about. People of all ages are accepted. Children can start as young as 5-6 years old.  Most start around age 9 or 10.
More information: www.vancouverkendoclub.com.
E-mail: info@vancouverkendoclub.com