Community Kitchen Classic
by Fumiko Greenaway
This is the very first Community Kitchen, published in the March 1985 issue of The Bulletin.
This is a favourite dish for family dinners, parties or to order in a restaurant. Also it is not so formidable to make because you can buy ready-made wonton wrappers which are already rolled out into thin round sheets and save a lot of preparation time. One package yields approximately 36 wrappers.
---
GYOZA
(Fried Meat Dumplings or Kuo Tieh)
1 pkg.Wonton Wrap (approx 36 wraps)
1 Ib. ground lean pork (or half and half
with lean ground beef)
5 leaves of Chinese cabbage
(parboiled and chopped fine)
1 stalk of green onion (chopped fine)
1/4 tsp. grated fresh ginger
1 clove garlic, finely minced
1 tbsp. shoyu (soya sauce)
1/2 tsp. salt
Sauce:
3 tbsp. shoyu
1 tbsp. sake
3 tbsp. vinegar
2 tsp. sugar
several drops of chili oil (or tabasco sauce)
Some recipes suggest that you parboil Chinese greens or cabbage to soften it slightly but I find that no matter how well you drain and dry the cabbage it remains watery. Chop the cabbage quite fine and add chopped green onions. Combine with meat and seasoning.
Place about 1 teaspoon of the meat mixture on to the wanton wrap. Wet wraps top and sides, pull edges of wrapper toward centre, pinch pleat in a half-moon shape. Heat oil, medium heat, add gyoza and saute until the bottoms are brown. Add hot water to third height of the gyoza. Cover tightly and steam until the water has evaporated. Serve with sauce.
Sauce can be made has hot as you wish. And you can make your own interesting filling, such as adding water chestnuts, bamboo shoots or shrimps (dried or fresh). BON APPETIT!
---
From the March 1987 issue of The Bulletin.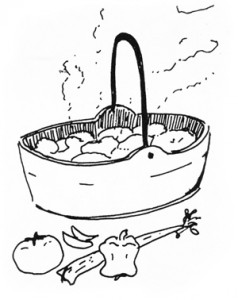 HAPOSAI
8 Vegetables
These days it feels as if spring is around the corner. Maybe it is, but that bright sun can fool you, it's often pretty brisk outside and how lovely it is to have something warm to eat for supper. Here Is a Japanese Beef Stew that I found quite tasty and easy to make.
1 Ib. lean beef, sliced thinly
or 1 Ib. of fried meatballs
2 green peppers, chopped coarsely
2 carrots in 1/2" slices
4 ribs celery in 1" lengths
2 onions, cut in 8 wedges each
1 tin tomatoes, 28 oz. or three ripe tomatoes cut in wedges
1 clove garlic, minced
1 tsp. minced ginger
2 cups stock
4 Tbsp. shoyu
4 Tbsp. vinegar
4 Tbsp. sugar
2 Tbsp. cornstarch
3 Tbsp vegetable oil
Sauté meat or fry meatballs in the oil. Remove to a pot and stir fry vegetables one at a time and add to the pot. Add tomatoes, garlic and ginger. Dissolve cornstarch with the shoyu and pour into the boiling stock to thicken and season with sugar and vinegar. Pour the thickened stock into the pot of vegetables and meat. Bring to boll and serve with hot rice. You may adjust sugar and vinegar amounts to get a pleasant sweet-sour taste.
NOTE: You may substitute cauliflower, bean sprouts, broccoli, bamboo shoots etc. as you wish, and you may delete any of the vegetables indicated except bell peppers, tomatoes and onions which are essential to a good flavour.