Interview: Natalie Higashi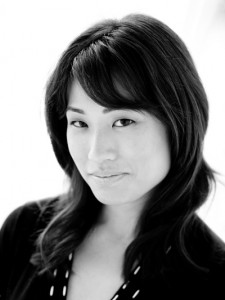 In 2010, Natalie Higashi was attending City University in London, England, completing a Masters Degree in Journalism. For a graduation project she was required to do a professional project in either radio or television. As she already had a Masters in filmmaking it was an easy decision to make a film and she chose as her subject the changing face of the post-war Japanese Canadian community, a change brought about by the high intermarriage rate—95% according to Statistics Canada. The resulting film, The New Faces of the Japanese Canadian Community, was filmed partly at the 2010 Powell Street Festival and the Nikkei Internment Memorial Centre in New Denver. Through discussions with scholars and community members, the film looks at reasons behind the high rate of intermarriage and the effect of it on how Japanese Canadians perceive themselves.
Earlier this year, after returning to Canada, Higashi had the opportunity to revisit the topic of intermarriage, this time for radio, creating Marrying Outside for CBC Radio's The Current. The program was aired as part of series, Shifting Demographics in Canada.
Natalie Higashi spoke to The Bulletin from her home in Toronto.
---
You are the product of a mixed marriage yourself, tell me about your immediate family.
My dad was born in 1938 on Vancouver Island in a small town called Chemainus. It was his grandfather who first came to Canada in the late 1800s, but returned to Hiroshima to marry and had a son in Japan (my father's father). His grandfather remained in Japan, and his father came to Canada on his own later on. My dad is the eighth of eleven children. They were interned in Popoff in the Slocan Valley when the war started. My grandfather signed the papers to go to Japan after the war ended, so half the family (those under 16) took the arduous boat journey to the devastated Hiroshima, including my father. Eventually they all returned to Canada and settled in Toronto.
My mom was born in Hong Kong. Her family is originally from Shanghai, but moved to Hong Kong before the revolution. She came to Canada when she was 18. Having travelled by herself, she didn't know very many people at the time. She met my dad's sister at hairdressing school and joined my dad's family for Christmas one year and that's how they got to know each other. Both very young and naive, they married soon after and had two children. They separated when I was seven, but remain good friends. I was born and raised in 1980 in Toronto (East York).
You got a BA in International relations and then a Masters in International Journalism. Have you always had an interest in race and culture?
After high school I wasn't exactly sure what I wanted to study. There wasn't much guidance in high school that assisted students towards their individual potential. Nevertheless the school was extremely international and I was exposed to a lot of different cultures and backgrounds there. I had friends that were also going into international relations and I thought this was a good combination of interests I had at that time (history, economics, politics, languages) so I went for it. I applied to Trinity College at U of T. It's the only college that requires an application, and to my surprise I was accepted.
After graduating I got an offer to the London School of Economics for a Master's in International Development, but at the time I felt burnt out from spending so much time in the library and always working on a theoretical basis. My time in university really opened my eyes to analysing issues happening around the world, and though I still had a lot of motivation to work in international affairs, I didn't think I was best placed to do so via academia.
I was very much drawn to photography at the time so I took a year off and traveled through South America, studying photography and Spanish in Argentina, and traveling all over Chile, Bolivia, Peru and Brazil.
When I returned I wanted to combine photography with international relations, so I decided to go to Film School. In 2005 I was accepted to the London Film School in England to do my Master's in Filmmaking. It was one of the best times of my life. I love filmmaking and the community of people I met there had the same intense interest in life as I did.
I ended up producing a lot of the films during the course. My interest in photography expanded and I wanted to learn all about the process of making films, and I realized I had a talent for bringing certain skills together to make a polished film, which is actually very difficult. I loved being involved in the script process, the art and photography direction, and managing budgets and schedules.
I did some freelance work after graduating for a few years. It's a tough industry and I realized that I wanted to work on projects that had a faster turn over and with smaller productions – more documentary work than million dollar studio films. I felt I needed more experience with research and writing, so I decided to back to do another Master's in journalism before returning to Canada.
In journalism I could work more independently and have shorter productions that I could get out faster. I still love filmmaking, but I like cutting my teeth on short documentaries, and I've always been interested in real-life people and events.
You've been a filmmaker and a journalist, what is it that appeals to you about those worlds?
I love stories and psychology. I've always been interested in international relations and documentaries; I watched them all the time growing up. As a child model and actor I was involved with media from a very young age and knew it would always factor in my life somehow, and it's amazing the different aspects of it I've come to know for so many different reasons and in different chapters of my life growing up. I love photography and imagery and how it transports us without the use of words.
You travelled to BC to film New Faces of the Japanese Canadian Community. What was that like for you?
It was an amazing experience to speak to so many people and travel the history and see the places that affected the Japanese Canadian community. I can't explain how much of a home-coming it felt like to become familiar with a community that had the same perspective on life as I did. I had always felt like an outsider, and I found out that there were others out there like me, but also that there were events, a cultural centre, and people who came together under these circumstances anyway.
Going to BC and traveling to the Slocan region and spending time in Vancouver at the Powell Street Festival opened my eyes to a piece of the puzzle of my family history that I never knew before I started the project. Before this, I always shied away from writing about my own issues, my own community. I had studied extensively about racism, immigration, oppression, etc. but I never really turned the lens on myself. I always seemed to produce for others who wrote about their own lives or communities. It took a lot of courage to finally embrace my own and I am so happy I did.
Coming from Toronto, what was your impression of the community here on the coast?
I'm not sure I spent enough time with the Vancouver community to really get to know it that well. From a very personal perspective I did somehow feel more 'connected' while I was there. I felt closer to the 'mother country' there and I could see and feel the history of immigration from Japan to Vancouver. It's a different feeling in Toronto. The community is more sprawling and it takes some extra effort to get involved, it's not just available to you; you have to search it out for yourself. It's like the narrative has been broken in some sense, because of dispersal, there's no central historical place of gathering. We have had a great cultural centre for years, which is great, but it happened more politically than organically, so the community doesn't always feel as natural as it does in the West.
In your radio piece you look the question of intermarriage through other couples – what is your own situation in terms of relationships?
I am in a long-term relationship with my boyfriend who is British. We met six years ago at film school in London. I never had a racial preference when it came to partners. I have dated all types and simply find other qualities more important. My very first boyfriend was Japanese (born in Japan and immigrated to Canada when he was three) and we dated for a few years in high school.
I have questioned race in terms of relationships though. When you learn about neo-colonialism in college and you trace the plight of the Japanese-Canadian/Asian communities in their struggle for acceptance in the West, there's no doubt you try to deconstruct your attraction to certain groups and races. I've realized that it's impossible to untangle everything, that love is a pretty complicated thing and it can't only be theorized, intellectualized and politicized.
You're written for the Nikkei Voice and obviously have an interest in your Japanese/Asian heritage. There are some that think the community will just fade way as it gets assimilated into mainstream culture – what do you think?
I'm still thinking about this. At the moment, my stance is that I think there is SO MUCH POTENTIAL. I enjoy writing for the Nikkei Voice because it blends so many of my interests, including volunteer work for something I believe in. It also allows me to get to know more about the community, which can otherwise be hard to find the time to do, admittedly. I've also recently joined the Heritage Committee at the JCCC and have met so many wonderful people. I feel like I'm just at the beginning of getting involved with all the projects with the community and building lasting relationships with people. I think there is a long way to go to making the community more cohesive and stronger in the future, but I have faith that we will take it in that direction. I will certainly try to do my best to support whatever that is!
To listen to Marrying Outside online, Google "CBC Marrying Outside Documentary."
To view The New Faces of the Japanese Canadian Community and to explore more of Natalie Higashi's work, visit nataliehigashi.com and click on the links on the home page.