inReview: Vancouver International Film Festival
VIFF October 1 to 16 2009
Reviews by Barbara Stowe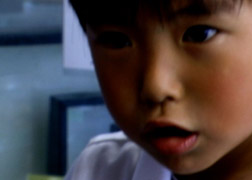 Bare Essence of Life (Ultra-Miracle Love Story)
Director: Yokohama Satoko, 2009 (120 minutes)
Yokohama is blazing an impressive trail. Named "the darling of new Japanese cinema" at this year's Toronto International Film Festival, she made her first feature (German + Rain) with prize-money awarded for her film-school graduation short. German + Rain in turn became so successful (garnering a Dragons and Tigers nomination at last year's VIFF) that it earned her the chance to make this second, more mainstream (although still definitely art-house) feature.
Bare Essence of Life asks the question, what happens when someone tries to radically change, in order to gain acceptance? Yojin (Matsuyama Kenichi, also starring in the ninja epic Kamui), was born with a brain that is "not broken, just different." He's in love with Machiko, a kindergarten teacher traumatized by the death by decapitation of her boyfriend. Brilliant comic scenes, a well-honed storyline, whimsical surreal touches and characters crafted with love all combine to make this an extraordinary and moving film. Yokohama has set the bar high, for herself as well as other up-and-comers, and her career should be followed with interest.
Yellow Kid (Ireoo Kiddo)
Director: Mariko Tetsuya, 2009 (111 minutes)
This ambitious first feature by Mariko Tetsuya interweaves manga with the story of a budding boxer to create a double world, half fantasy, half reality. Tetsuya has a talent for creating heart-pounding suspense. The smell of sweat in the gym is almost palpable, and the sexual scenes are expertly rendered. The cool jazz soundtrack is a clever contrast to the aura of rage and violence that builds throughout the film, as the young boxer and a manga artist, dual protagonists, face their own demons.
Tetsuya is only partially successful in portraying the subtle emotional interactions of his characters. Although there are finely drawn moments, as in a scene where manga artist Hattori explodes with bitter vituperation on hearing that his former girlfriend has become engaged to another man, in the end the director fails to render his characters fully. Hopefully this kind of depth will come with age and experience. Tetsuya is to be commended for what he has already mastered, and it will be interesting to watch how his career progresses from here.
Left Out (Puritan)
Director: Sasaki Omoi, 2009 (91 minutes)
"The protagonist is a man who is lacking in the qualifications as a protagonist of a story." With this devastatingly honest, comic assessment, director Sasaki Omoi sums up the dilemma of his hapless anti-hero in the brilliant indie feature Left Out.
Tanaka is a sad-sack working in a dead-end job salvaging junk, abandoned objects that have been "left out" on the pavement or in recently vacated apartments. Yoshiko is the woman he falls for, a beautiful, damaged character so compelling she threatens at times to take over as protagonist herself. The relationship between these two is unfolded with masterly control by Omoi in carefully constructed sequences. Some shots appear arbitrary, but when their significance is later revealed, they pack a powerful emotional punch.
The contrast between the drab lives of junk collectors and moments of devastating beauty add to the power of this feature to induce a surprising strength of feeling for characters who might in a lesser director's hands come off as merely pathetic.
Incredibly, Omoi's budget for this dramatically sophisticated, professional-looking film was a mere $7,000 Canadian. The filmmaker, who wrote, directed, shot, edited and produced the film himself is virtually a one-man movie-making machine. He garnered a Dragons and Tigers nomination for this feature and it seems apparent that he has a very bright future ahead.
Left Out was screened with two shorts: Reflection, by Ishida Takashi, and Labyrinth of Residence, by Saito Nasuka.
Where Are You? (Wakaranai)
Director: Kobayashi Masahiro, 2009 (104 minutes)
Kobayashi Masahiro's latest offering is billed as a tribute to Truffaut's alter ego, Antoine Doinel. But his wretched young protagonist bears more resemblance to the leading characters of such new millennium era movies as Wendy and Lucy (and, to a lesser extent, The Pool) than the French auteur's autobiographical reflections on a troubled childhood.
The problem is largely one of pacing, which—combined with unvaried repetition —blunts the dramatic possibilities offered by the story. Where one scene of the starving Ryo (Kobayashi Yuto, the filmmaker's teenage son) wolfing down noodles would have sufficed, Kobayashi gives us multiple, virtually identical takes, and by the time the boy trudges up a hill at the movie's end, any interest the audience may have initially felt for this disadvantaged child has for the most part evaporated.
It is possible however that Kobayashi may still triumph with Where Are You? The similarly flawed Wendy and Lucy (by Kelly Reichardt, VIFF 2008) was after all well received by some critics, and Kobayashi's film offers an interesting storyline, some touching moments, and Yuto Kobayashi has charismatic qualities.
Eatrip
Director: Yuri Nomura, 2009 (75 minutes)
From the bucolic opening shot of a sunny field, to the whimsical animated apple tumbling gently down the screen during the closing credits, this is a beautifully conceived and executed meditation on food. Gastronomy on screen typically revolves around conflict and competition, à la Iron Chef, or elaborate gourmet cooking rituals (Julie and Julia). This restrained and lovely film takes as its theme instead cooperation, community, and the simple, timeless pleasures of harvesting and eating fresh fish, fruit and vegetables.
In a subtly subversive erosion of hierarchy, Nomura gives equal precedence to celebrities like singer UA and Naoko Morioka, a housewife who grows food from scratch for her family in Okinawa. There is something mysterious about the power of this gentle film, which proceeds quietly, but—as the layers of its onion are peeled away—makes the eyes water at unexpected moments.
Island of Dreams (Yume no Shima)
Director: Tsuta Tetsuichiro, 2009 (83 minutes)
This first feature by 25 year-old writer/director Tsuta Tetsuichiro pays tribute to black and white Nikkatsu thrillers of the 1960s. Shot on film stock that was processed and printed by the filmmaker and his crew, the drama pits an eco-terrorist against a canny detective (played with relish and just the right hint of humour by Kuraoka Ikuro).
Cinematography by Aoki Yutaka—nominated for a Dragons and Tigers award for his contribution— inspires a lyrical mood that heightens, rather than detracting from, the dramatic tension. The ending is somewhat weak, but the poetic touch of snowflakes transformed into baubles of light helps to create a magical aura and lessen the sense of disappointment inevitably arising when dramatic build up is not fully paid off.
Tsuta, while no proponent of terrorism, is clearly questioning the values of a society, which can create a mountain of gomi while lacking a suitable repository.  Not that Japan is the only country suffering this problem. Garbage is a global dilemma, just one of the environmental challenges documented by a wealth of dramas and documentaries in this year's VIFF.
Island of Dreams was preceded by two shorts by Goshima Kazuhiro, Uncertain Camera and Aliquot Light.
USB
Director: Oku Shutaro, 2009 (95 minutes)
Oku Shutaro's futuristic thriller promises more than it delivers. The set up is intriguing. In a fictional town, chilling public-service announcements warn of atmospheric radiation, but people carry on as usual. A young man with crippling debts considers signing on for a dangerous but lucrative experiment involving irradiation. Will he or won't he?
With an introduction like this, an audience expects to be on the edge of their seats. Instead, Oku alternately drags out the action in places and tries to jumpstart it in others with the usual sci-fi misogynistic sex and violence. Drama without appropriate transitions turns into melodrama, and the stone-faced acting of lead Watanabe Kazushi, which must be blamed on direction, does nothing to leaven the situation. Momoi Kaori, playing Kazushi's widowed mother, imparts grace and depth to her scenes, but as she is called upon to repeat the same action over and over…worrying over her boy…without variation, even her presence seems wasted.
Beetle Queen Conquers Tokyo
Director: Jessica Oreck, 2009 (91 minutes)
Is Jessica Oreck the Beetle Queen of the title? If so, the young filmmaker can now add "Vancouver" to her list of conquests. The New York-based producer/director's first feature was warmly welcomed at an international debut at the Empire Granville cinema on October 3rd. Too bad less than half the seats in the auditorium were filled, a turn-out that can perhaps be blamed on the Eurocentric aversion to all things insect. The filmmaker admits however that a dislike for some insects is universal. Arachnophobes, relax. No spiders—which are not insects, anyway—make an appearance, and neither do creepy crawlers such as centipedes.
Oreck's oeuvre delightfully documents Japanese bug supermarkets; children playing beetle videogames; and insect enjoyment of all kinds. Gorgeous, at times near-hallucinogenic cinematography by Sean Williams and a soundtrack that includes Kafka by Ryuchi Sakamoto, performed by Tsuchiya Masami, add to the appeal of this unique film which won the Special Jury Award for Artistic Vision at Cinevegas 2009.
Denotation
Director: Sato Fumiro, 2007 (5 mins)
Labyrinth of Residence
Director: Saito Nasuka, 2008 (5 mins)
Two young filmmakers turn their cameras on a shared personal predicament: the loss of their childhood homes. In Denotation, Sato Fumiro documents the house that he grew up in, now threatened by highway construction. Saito Nasuka, whose family traded a traditional wooden house for a concrete apartment, documents her new home in an effort "to become friends with it" in Labyrinth of Residence. After scanning 6,000 still camera shots into her computer, she interweaves 3,500 of them into a fast-paced, clever pastiche. The experimental psychedelic trance soundtrack lends an almost comic overtone to the work. Her lens leads us briskly down corridors and zooms around corners as if channeling an inner John Travolta, then pulls back for a breathtaking exterior shot of the massive apartment complex punching up into the sky.
By contrast, it is not the camera that moves in Sato's Denotation, so much as a mysterious red line of computer graphic goo which travels from the top of the house down. Sato induces a surprising pathos by letting his camera linger at the place where the back steps meet the ground, a moment of leave-taking that insinuates a greater goodbye. The surprise ending is a brilliant finale.
---
---
Interviews by Barbara Stowe
Painful Honesty from Sasaki Omoi, director of Left Out
Sasaki Omoi hunches forward in his seat, his wiry body tense, forehead wrinkled, mouth unsmiling. He looks older than his 31 years. One senses that making films is like breathing to Omoi, and that the filmmaker would infinitely prefer being behind the lens of a camera to sitting in a luxury suite on the tenth floor of Vancouver's Sutton Place Hotel.
Where was the film shot?
Mostly in Tokyo.
The scenes by the water…?
Outside of Chiba Prefecture, just north of Tokyo.
What was your budget?
In Canadian dollars, it came to about $7,000.
Incredible. How long was the shoot?
Fourteen days, but those weren't consecutive. We shot over the period of a month.
And the total process, from writing the script to completion?
It took me a month to write the script. Then the cast helped scout locations with me for a few months. Then shooting took a month…
I loved the way with the character of Yoshiko you showed such beauty and innocence on the surface and such violence underneath.
When I wrote the script I was going through a heartbreak. I broke up with my girlfriend, and I had the feeling I really couldn't understand women. Not that I can understand them now!
(This remark provoked laughter from the interpreter and The Bulletin, although only a wan smile from the director).
That's why, when it comes to the character of Yoshiko, you really can't tell from the outside what she's feeling.
It was obvious from the emotional tenor of the film that it was deeply felt, so I'm not surprised to hear about the personal circumstances behind the script. But everyone feels heartbreak. It's rare to be able to translate that into a work of art.
Oh, I'm embarrassed to hear that.
Which brings us to distribution. You've done almost everything else single-handedly for this film. What are your plans for distribution?
I had no specific plans and I have none now. Right now I'm already busy writing the script for my next film. The actors are somewhat perplexed at this and comment negatively, but I don't know what to do about it.
At some point will you consider handing some of the business aspect over to someone else?
Thank you for your comment, but it's very important to have a sufficient budget to make films, and for that distribution is key, so I want to study distribution more, when I have time, and learn how to do it myself.
In the Q & A after the film last night, you said the film was difficult for the audience to watch. It was complicated, but it wasn't difficult. How did you put together such a complicated, perfect construct?
That was just the way (the script) happened.
Was this film of a similar sensibility to others you've done?
In one word, this latest film was more complicated than the others. The others were easier to understand. For instance one was about a mother and daughter taking a trip. This goes a lot deeper. So if I can be very honest about this, I was in a very confused state when I wrote the script and I felt it was very important to write about it, but my past films may be better.
Tell me about your career to date.
When I was about 20, I started acting…stage performances…but I had a great interest in film. I started assisting in lighting while working part-time in a Pachinko parlor and delivering newspapers. About four years ago I started doing what I'm doing now. I spent the first year studying from square one, learning how to use the equipment. I made short films, then mid-length features, all while working on the side.
Is this your first full-length feature?
Officially I've made two other full-length features, but experimentally I've made more.
Going A Round with Yellow Kid director Mariko Tetsuya and producer Hara Takashi
You have a double protagonist movie. Did you start with one lead character, or two?
Tetsuya: Two.
How many drafts of the script did you write?
Tetsuya: Ten…thirteen…actually, I've lost count.
It has been said that a good movie needs sex and violence in every scene. Obviously not actual sex and violence. You were very good at heightening suspense with the overt portrayal of these elements, but what about the more subtle aspect of emotional violence? How successful do you think you were at portraying that?
Tetsuya: When the actors came in, they naturally brought those parts of the script to life. So, I feel we were very successful in what we were trying to achieve.
In the scene where (Tamura's) grandma becomes incontinent, the protagonist does nothing to help her. What does this say about his character? I didn't think you meant to create a lack of empathy for him. He seemed to feel bad just for himself…
Mariko: The character comes from a background where he's poor and unhappy, but at that point in the movie, he's getting into his Yellow Kid role more and more, so I didn't want him acting too unhappy… He thinks boxing can change his life, but then he sees the reality of things with his grandma and just wants to run away.
The manga was terrific. Are they (Yusuke Owaki and Hidekazu Wasaki) professional cartoonists?
Tetsuya: In Japan there are a lot of people drawing manga so the level of excellence is very widespread. They're not professionals.
There was one outstanding cut, from a quiet somewhat emotionally intense scene in the artist's apartment to boxing at the gym…very effective. (Note: the film was edited by Hirata Ryoma). I was impressed by the cinematography. How did you collaborate with Aoki Yutaka?
Takashi: It was (Mariko's) first time working with Aoki. He'd seen Aoki's work and liked it, so he asked him to collaborate on this film. Aoki does karate, and Mariko wanted him to shoot with a handicam, so he figured he'd be strong enough…he's in really good shape, so it was perfect.
What did you do, as producer?
Takashi: Everything, from consulting on the script all the way through, to handling the budget…everything.
Talking with Tsuta Tetsuichiro and the Crew of Island of Dreams
The Bulletin interviewed five members of the crew of Island of Dreams, a first feature helmed by Tsuta Tetsuichiro, including the writer/director himself; cinematographer Aoki Yutaka; lighting designer Masaya Kawamura; recording engineer Yuki Kaneda; and co-producer Nakamura Yumi.
The young filmmakers (all aged either 24 or 25) stepped off the plane at the Vancouver International Airport and rushed to the Empire Granville cinema just in time to catch the first international screening of Island of Dreams. VIFF Dragons and Tigers programmer Tony Rayns hosted a quick Q and A after the film, and then the crew trooped three blocks to the VIFF media centre at the Sutton Place Hotel for this interview. Jet-lagged but pumped with adrenaline, the filmmaking team sat down to talk about the challenges of creating a first dramatic feature on a budget of approximately 1,200,000 yen ($14,000 to 15,000 Canadian).
What was the biggest challenge for you in creating this movie?
Tetsuichiro: Processing the film. The first processing took 48 hours, non-stop.
(Note: The filmmakers processed the film themselves, in a garbage can with a frame cut out, a process Tsuta referred to as arduous and primitive, dating back about a hundred years.)
Where did you shoot the scenes of the garbage dump? Was it on the actual Island of Dreams, in Tokyo Bay?
Tetsuichiro: Yes.
Did your script pose a question that you wanted the movie to answer?
Tetsuichiro: Yes, the environmental issue. I grew up in the countryside and witnessed logging (and other ecological devastation)…Japan is regarded as an affluent society but spiritually, psychologically and emotionally it is poor.
Was there a reason you chose an eco-terrorist, and not an eco-activist, as your protagonist?
Tetsuichiro: I wasn't aware of the difference. When I was researching (environmental activism) on the internet, the first thing I came across was the term "eco-terrorist".
The score was powerful…in one section with strings and triangle, I was reminded of Tomita (Isao)…and Nino Rota. How did you and the composer collaborate, and were you inspired by particular composers?
Tetsuichiro: Keita Kawabata did the music. We were inspired by the music of Masaru Sato and Toru Takemitsu.
What did your job as producer entail?
Nakamura: I was a Jack-of-all-trades.
What was the most difficult aspect of your job?
Nakamura: The way they'd want to proceed before things were in place…like, they'd film when we had no permit!
And the best part?
Nakamura: I like to plan ahead. I got to experience spontaneity.
You said in Tony Rayns' Q & A after the film that your marks were poor and your film professor told you not to show your face around him anymore. Will you graduate?
Tetsuichiro: (emphatically) Yes!
(This response was met with laughter around the room).
I like how clean your script was. Some filmmakers, especially new ones, are afraid to make dramatic points clearly, and feel they have to be obscure, but end up being vague.
Tetsuichiro: Perhaps I'm not experienced enough yet to be obscure.
Let's talk about the lighting.
Kawamura: The protagonist, Alan, and the Detective both had shades of good and bad, light and dark in their characters. With our limited budget, it was hard to bring this out.
How successful did you feel you were?
Kawamura: (thinks for some moments, then sighs) Fifty-fifty. But one of the things I learned, and have to learn more, is that when shooting day after day you get really fatigued, and have to push yourself beyond your limits.
What problems did you encounter recording the sound?
Kaneda: The same as Yumi said. They'd want to film before the sound was ready to go. Also, the budget. When we were shooting one scene I had to be locked up in the trunk of a car because we couldn't afford to do it any other way.
Given that you were not championing violence as a solution, how much empathy did you want to create for your protagonist?
Tetsuichiro: Originally I didn't think the empathy would be there because the audience wouldn't relate to Alan. So I created Detective Terayama and expected the audience would follow the story through his POV. I expect the younger audience may get it (Alan's POV), but not the rest.
Beetle Queen Conquers Vancouver (as well as Tokyo)
Jessica Oreck, whose movie Beetle Queen Conquers Tokyo won the Special Jury Award for Artistic Vision at Cinevegas 2009, struggles to sit up very straight. It's a difficult task on the comfortable couch in the suite provided for media interviews at the Sutton Place Hotel. "I'm so nervous," she says, twisting her slender fingers together, but her eyes shine with excitement.
Oreck, who just turned 25, has already trod an impressive path. Fascinated by insects as a child and inspired by a David Attenborough nature documentary as a teenager, she now works in the vivarium at the Museum of Natural History in Manhattan. She loves having butterflies flit around her all day at work, although she says not everyone would.
"I think the bigger the guy, the more scared he is," she says somberly. "Some children who've grown up in the city have never even seen a butterfly. Look! they say to their parents, it's not moving, is it broken?" She sighs in exasperation. "It's not broken, it's dead! A butterfly isn't a machine, it's a living thing."
Her deep concern about the human relationship to the insect world drives this documentary.
"People think termites are a problem. They're only a problem because we've built wooden houses in places where they shouldn't be."
Her passion for the insect world has its limits, however. "There's a reason people are afraid of centipedes, mosquitoes, spiders." None of which appear in her film.
When she heard about the Japanese interest in beetles and other insects she was elated, because most people in North America found her fascination with bugs strange.
"Tokyo in summer becomes a bug market. Every supermarket, every grocery store sells beetles (as pets). Mushiking was the number one videogame in Japan for years, and Pokemon has Caterpie and Butterfree…insects are entrenched in pop culture there."
She differentiates between the aesthetics of her film, and movies with an environmentalist slant.
"I don't believe in environmental filmmaking. I mean, I loved The Cove and Recipe for Disaster, but those type of films only attract two types of people: the ones who already believe in the cause, and people who feel they've done their part just by going to see the film. That's not a form of activism, going to a documentary."
What's on the horizon for Jessica Oreck?
"I'm working on a movie about mushroom hunting…I use the natural activity as a way of talking about larger issues. For instance, in the East European fairytales the forest was always evil, but in Romania, in Ceaucescu's time, people found nourishment in forests."
One senses that with her passion for nature, Oreck will always find nourishment in forests, albeit of the artistic and spiritual more than gustatory sense. Given her historian's bent, she is also likely to continue to find it in the libraries and museums of concrete jungles.
Sato Fumiro and the Red Goo
Sato Fumiro, twenty-three year old director of the intriguing short Denotation, looks happy and relaxed as he settles back in his chair at the Sutton Place Hotel to answer a question about CG (Computer Graphics) goo.
You want to know what the red goo was? This is a question I often get. Some people ask, was it blood? Others ask if it was my eyesight (honing in on specific visuals). For me, it wasn't blood. The most I can say about it is just that…it's a substance.
The ending was intriguing…the way the red line crossed the road in mid-air, coming from both sides…
The goo was done with computer graphics…I shot the main film, and then added the CG afterwards. So when I was shooting I had to imagine the goo in each frame, to build logically to the end.
Can you elaborate on what you said in answer to (VIFF programmer) Tony Rayns question at the screening? About the red line?
Tony said the red line was like an alien invasion. What I realized after finishing was, in confronting the film as "other", I myself was the alien and I finally understood what I was making.
Your older brother is here with you. What did he do on the film?
He argues with me. We talk about the film in the planning process. He has a degree in Linguistic Sociology.
I was struck by the way you contrasted manmade objects and nature…for instance the opening of the central panel of rice screens, showing us just a glimpse of nature. It produced a certain sadness in me. Was your intention to produce a longing for nature, in the viewer?
That is a very interesting question, because I come from a part of Japan which has one of the oldest shrines, and this shrine has been destroyed seven times, and each time it was rebuilt just to the way it had been before. I thought, why keep rebuilding the same thing? We need to create things anew. The red (goo) moved from top to bottom, stopping just above the ground…pulled by the force of gravity…gravity is nature…but creativity is another force. There is a struggle between creativity and nature. So maybe there was some sadness, something is being destroyed…but there is renewal, too, when we create.
Where were you born?
Izumo, in Shimane Prefecture, slightly northwest of Kyoto.
And you shot this in your family home?
Yes. Part of the property is being destroyed, to make way for a highway. Actually, I'm now shooting a full-length feature, part documentary, part fiction, about that.
Labyrinthine Pursuit: Saito Nasuka Unravels the Maze
Saito Nasuka sparkles. From glittery nail polish to the shimmery scrunchies that adorn her wrists to her metallic legwarmers, everything on her person reflects light. It's as if she's in visual rebellion against the dull concrete that she somehow manages to bring to life in her short film, Labyrinth of Residence.
Why did you use the word "labyrinth"? I know there was a Japanese movie made in 1997 (by Sogo Ishii) titled Labyrinth of Dreams (Yume no Ginga). Is this short in any way a tribute to that film?
No. I used the word labyrinth because it's a more elaborate term than "maze", more suitable to describe the immense size of the apartment complex.
Over what period of time did you shoot?
Two months.
Describe your process.
I didn't own a video camera so I used a still camera. I'd shoot…take three steps…shoot again. Then I scanned all the images onto my computer.
How many shots did you take?
Six thousand. I ended up using 3,500.
In the Q & A after the film, you said you grew up in a traditional wooden home that was more than a hundred years old, and that when your family moved into a concrete apartment you made this film as a way of getting to know your new residence, to try to get along with it. Did the film help you to do that?
Yes. When we moved to the apartment, I found the material very cold. Also the people were not warm. I found them unfriendly. But while filming I grew a love for concrete, became friends with it.
Do you still miss your old home, with its natural textures?
One thing I learned while making this film was that each place has its own beauty. By moving, I gained an appreciation for different styles. I learned that each place has its own beauty, its own lesson to teach. Everyday we see things around us we don't pay attention to. But anything around us can become a fun object, can be brought to life.
What's next for you?
Up 'til now I've focused on things I'm not fond of, things I usually would stay away from. I have a background in drawing, and I want to try cartoons.
Translators: Kimiyou Kamamura, Paul Baldwin and Akemi Kojihata.