Fukushima and Tohoku – news from the ground
by Linda Ohama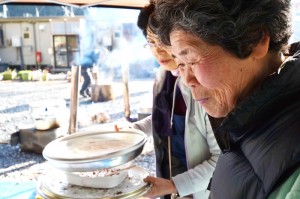 Have just returned to Sendai, Miyagi-ken from the small northern fishing town of Otsuchi, Iwate-ken where I experienced Japanese o-shogatsu.
Sendai is in the centre of the tsunami affected areas of Tohoku that spreads over three kens.
Otsuchi had the greatest damage and most deaths from the tsunami.
It was very moving to share the celebration of o-shogatsu with the Otsuchi people as they continue to honour their traditions with such grace and gratitude with what little they have been left with.
Here, the town of Otsuchi is flattened, left with mountains of debris, a fish port that has dropped one metre, a train station that is now a mere portion of a platform, and kilometres upon kilometres upon kilometres of temporary housing projects. These projects look very similar to photos that I have seen of the Japanese Canadian internment camps in Tashme, Greenwood and other locations in the BC interior.
Families who had large homes and abundant lives before the tsunami now live in these cramped temporary homes. They estimate it will be at least five years for people to be able to get back on their feet and move elsewhere.
Many of the old people cannot leave for other parts of Japan because they are so attached to the ohakas and don't know anything but their ancestral places. Many cannot afford to relocate. The relocation allowances have ended now.  Many of the young people cannot leave because they are caring for the older people. But many men have left to work in other places, coming home to their families for times like o-shogatsu. This is what their lives are like now.

On the way back from Otsuchi, I stopped to join some volunteers who made mochitsuki with wood fire and wooden usu (bowl) and kine (mallet) with the tsunami survivors of a temporary house community in Minamisinriku, Miyagi-ken. Most of the people living here are obaachans and ojiichans whose lives were connected to the sea and land. They had much fun making mochi, teaching us their 'mochi techniques,' telling stories of mochitsukis of the past, and eating traditional ozoni together. Even though it was freezing out and snowing, it was very warming.
Minamisinriku also has a long road ahead in their recovery, with many half-standing buildings and ruins still needing to be cleaned up. This is the town where over 40 people died in the 'emergency and fire centre' building, including the 23-year-old woman who continued to send out tsunami warnings over the airwaves to tell people to head up the mountainside. She saved many lives and her young voice echoed all over the area, and is what some people remember from that day.
www.youtube.com/watch?v=IBUWQVrbdn4
Fukushima
Fukushima is a WHOLE DIFFERENT story. What the Fukushima people live with, and the recovery that they face is not the same as elsewhere along the Tohoku coast.
The biggest difference is that the people of other areas hit 'rock bottom' when the tsunami took their towns and their people. But since that time, people in these places have been slowly working hard every day to recover and keep heading upwards from the bottom that they hit on March 11, 2011.
In Fukushima, the people have not hit 'rock bottom' yet.
My feeling is that they don't know when they can hit the bottom, so this causes them stress and uncertainty about their future. In many ways, it will be a relief when they do hit bottom, because then they too can work uphill, towards the recovering of their families and communities.
But for this time, what they face in the areas around the Daiichi nuclear power plant are a lot of unknowns, a lot of misinformation, or not enough information, and fear of the invisible.
Just before Christmas, I received a package from the young people of Minamisoma, Fukushima, which is located about 25 km. from the nuclear plant. Their package moved me very much and made me realize that they must not be abandoned. From their letters, one can imagine some of what is going through even young children's minds in Fukushima.
A seven-year-old writes: "When can we go back home?"  And a ten-year-old asks about the safety of animals in the 20 km nuclear affected zone.
An eleven-year-old asks, "Will this problem about radioactivity vanish as long as I live?"
"Will the nuclear plant explode again?"
An eighteen-year-old writes, "I wonder how long I can live happily."
A fourteen-year-old asks, "Does thyroid cancer bring us to dying?"
And a sixteen-year-old's question: "Can I have a family in the future?"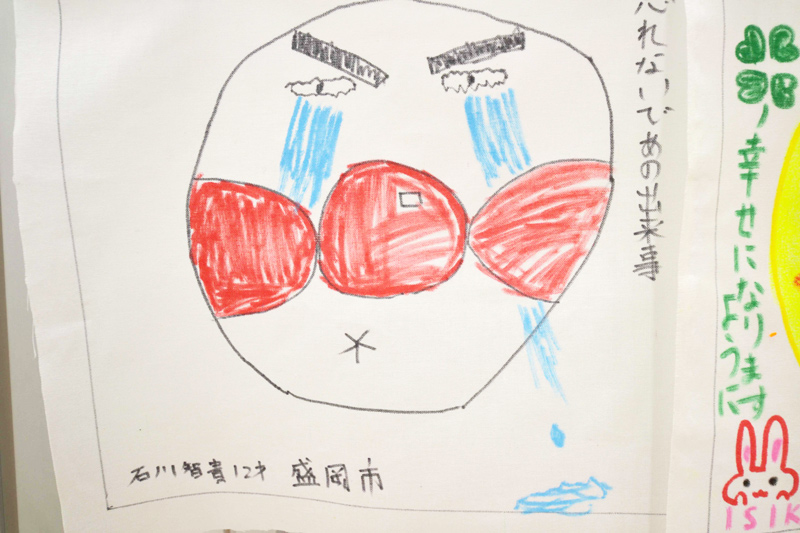 A lot of the worry and concern is caused by not enough accurate information. Even the mayor of Minamisoma, the now infamous Mayor Sakurai-san who dared to question the government, has continually asked for accurate and safe information for his people since the explosion.
This is their reality.
Many in the Minamisoma and Iwaki City areas lost their properties to the tsunami, but also face the results left by the explosion at the nuclear power plant in Fukushima that contaminates their area. Many people from this area live in temporary housing projects a little further away from the nuclear plant, and others who could, moved away to other parts of Japan.
Some of these families moved into the Onomichi area and I have gotten to know them. They call themselves the "Fukushima Runaway Mothers" because most of them are mothers with children under the age of nine-years-old who moved from their homes because of their fear of radiation contamination for their young ones.
Most of their husbands have remained elsewhere for their jobs in Fukushima, Miyagi, Chiba, Tokyo and Ibaraki.
These mothers meet regularly in Onomichi as a support group, learning ways to return to the basics of a simpler lifestyle, such as making from scratch their own organic miso, umeboshi, and even organic beer! They are going back to their traditions.
The cloth letters written by Minamisoma children have joined the huge "Cloth Letters" exhibition that is just completing its 22-month tour of Japan. The last showing of these cloth letters in Japan will be for the "Fukushima Runaway Mothers" as they try to bring attention to their needs for accurate information and help for the young people.
This exhibition will soon be traveling to Canada in the next months. Hopefully we will find an exhibition venue that can handle all 30 large cloth letters and open on March 11, 2013 in the Vancouver area.
If anyone is willing to help organize a Canada tour or an exhibition in your city, please contact me at cindyohama@gmail.com. So far, we have scheduled exhibitions in Toronto and Whitehorse.
It would be nice to open the Canadian tour of the cloth letters in Vancouver where we started the project on March 12, 2011 with my own grandchildren.
This is a grassroots project with no big sponsor or budget. We have been able to reach so many locations in Japan, and include so many young people's voices through people joining to build a network together:  the media, the galleries, the city mayors, the schools, the communities, and many individuals. Hopefully, Canadians can carry on this grassroots tradition and take these letters across the country for Canadians to experience.
The other main project that I am now in Tohoku working on with the people here is to help tell some of their stories of recovery and what they are facing. Everywhere, they are trying different home-based industries to make their comeback. Whether it be Otsuchi 'salmon shaped' handmade monaka (treats) that have become famous in Japan, or handmade daruma dolls or shell keychains, or i-phone carriers…..they are working hard. And they want to speak and we can try to listen. It is part of their healing.
WARNING: If you want to help make this documentary film in Tohoku, we have ONLY 11 days left to reach our goal on the online indiegogo campaign (until January 18, 11:59 PM PST).
PLEASE keep passing the word to others who might like to be part helping this documentary. And as you know, every $10 helps as people join together to make this documentary.
Latest updates in English and Japanese at:
Tohoku no Shingetsu Film Project
www.indiegogo.com/tohoku/x/1686525?show_todos=true
Happy New Year 2013 to you. Akemashite omedetou gozaimasu.
Many thanks,
Linda Ohama
Updates also on facebook and the website: www.lindaohama.com