An Interview with Rachel Mercer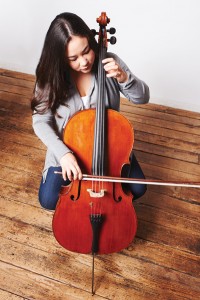 The year is 2014, and cellist Rachel Mercer's clearly on a roll: I say this because, in addition to a steady workload of concerts and performances, she has just released two brand new and very appealing CDs of music: SOUNDS OF OUR TIME: Music for cello and piano – Rachel Mercer-Angela Park Duo (NAXOS 9.70212); and two discs of Bach Suites for Solo Cello (PIP1403) which received a thoughtful review in the April 2014 issue of Gramophone magazine. 
In addition, and simultaneously, Rachel is the artistic director of the chamber music series, 5 at the first, now into its fifth year in Hamilton — for which she has just been awarded an Ontario Arts Council grant — while her performing and producing abilities have been rewarded by receiving Ontario Arts Council and Canada Council touring grants, as well as a Canada Council (FACTOR) recording grant. Congratulations, Rachel. 
Born in Edmonton, Rachel began cello studies at the age of three with Diana Nuttall. Since those early beginnings, the cellist has shared her music through a wide variety of venues besides the concert hall — seniors' centres, art galleries, a gourmet pizza restaurant, cultural centres, Health Arts Society concerts, private homes, and Momiji Centre. 
This artist is aware of the world around her. When she moved to Ontario, Rachel attended the Royal Conservatory of Music and received the Gold Medal for her associate diploma, studying with Susan Gagnon and David Hetherington. She received a BM from the University of Toronto with Shauna Rolston, an MM with honours from the New England Conservatory with Laurence Lesser, and a solo diploma from the Conservatorium van Amsterdam with Dmitri Ferschtman. 
And, if we look back at the year 2001, we're reminded that Rachel was the grand prize winner of the Vriendenkrans Competition in Amsterdam where she made her European debut in the Concertgebouw and subsequently appeared as a soloist across Canada, Europe, the United States, the Balkans and Israel. As a member of the award-winning Aviv String Quartet from 2002-2010, Rachel has toured regularly on five continents. 
Critical opinion: "[Rachel Mercer] did not assert the player's will as a distinct force working upon the music. She gave herself in perfect service to whatever she made of the score, and never once resorted to a grand gesture to get our attention." Robert Everett-Green – The Globe and Mail. 
Rachel Mercer is currently based in Toronto. Often described as a "pure chamber musician," Rachel's focus remains on the music, and whether she plays in a small ensemble, or with a full 80-piece orchestra, her nuanced playing is organic and collaborative. Here's the following chat by way of email: it was a 2-way mediated chat between myself, that is, and Rachel Mercer, the woman behind the cello. 
Describe what a perfect Sunday's like for you. Days of the week are all the same for us musicians, so I'm assuming Sunday means a day of no work? If I'm in Toronto, a nice brunch, walk on the Beaches, reading a book or magazine with a glass of wine, spending time with loved ones, and trying a new restaurant. Basically having a free timeline and no to-do-lists to complete!
What's been a mind-altering work of art for you? Musically, I try to approach each work with fresh mind and ears. I think what's more mind- altering is who I'm working with. I've been so lucky to work with amazing people and they all bring a different perspective and learning — to really listen and absorb their ideas is mind- altering. As to the fine arts, either the work is investigating and exploring aspects of a society unknown to me, opening up a whole new world, or there is something aesthetically that I respond to instinctively and in an abstract way, that makes me see or experience space, light, texture or colour in a special way. A lot of contemporary art effects me like this, so that's what I lean toward. 
How do you keep healthy on the road? I used to jog around and explore each new city — now it's more about just getting enough sleep and making sure there is time before concerts to be quiet and focus.
Is music a spiritual quest? Yes — for me, playing music is my way of connecting to that mysterious cosmic force that adds meaning to our human lives.
So far, what have been your career highs and lows? I`ve been pretty lucky in all my experience as a musician — of course, there are times where you feel that a performance has been less successful, or times when there are less performances, period (that live, in-the-moment communication feeds me), but in the long run those just become huge learning experiences. When the combination of music, players, audience, atmosphere all come together in a magical moment of connection during a concert, that is the high. Everything I do is a search for those moments. 
Do you remember what you bought with your first paycheque? No, but it was when I was about 14 and was a recreational gymnastics instructor — so hopefully it went right into the bank!
What do you think about when you think about Canada? A country that unites a mosaic of people and cultures, that allows them to coexist, blend and flourish. 
When it comes to personal and career matters, who do you ask for advice? My sister is the one person in the world whom I trust completely and who always knows exactly what I actually want. That said, there are many people that I admire for their life choices and accomplishments and I learn from them constantly by watching, listening, and asking questions.
You're famous for playing the 1696 Stradivarius "Bonjour" cello which was on loan from the Canada Council for the Arts Musical Instrument bank. When you played in Europe and in Israel it was flying with you on your travels. What did it feel like to have that cello with you? Ha ha — famous or infamous? Not me — it! Apparently at one concert there was a billboard outside saying, "Yes, the Strad IS coming!" It was a huge honour to have this loan and I was reminded of my luck every day when I would take it out of the case and draw my bow on its strings. There were times when the responsibility of having it was almost daunting — caring for such a rare and expensive instrument, striving to honour the loan by being as musically active as possible — but mostly I was just grateful to have this magnificent tool to work with and learn from.
Do you consider yourself a Japanese Canadian? Being Japanese Canadian is part of my heritage from my mother's side. I also have Israeli and British background — my grandmother on my father's side was born in what was then called Palestine from immigrants from the Ukraine, and my grandfather was English. I feel most definitely Canadian, but fortunate that through my heritage I get to have a closer experience of these cultures. 
What's your most memorable celebrity encounter? I guess this doesn`t count as a real encounter, but it was exciting enough to me! I loved the TV series La Femme Nikita with Peta Wilson, and was once going through customs at Pearson just as she and her entourage passed by the special assistance queue right next to me. 
Why do you live where you do? My family moved to Oakville, outside Toronto, when I was 12. I grew up taking the GO train or subway to Toronto for lessons and classes at the Royal Conservatory, then finally living in residence for my 3 years of undergrad at the University of Toronto — right at Bloor and University. During 8 years of living abroad in beautiful cities in the USA, Europe and Israel, and floating for a couple more, I was always envious of musicians who had grown up in and were really part of their own musical community. I`ve always loved Toronto — the city feeds me. I`m really happy to be back, first in the Annex, and now near Cabbagetown. 
It's been said that each of us is a product of our mother and our father. What characteristics of your mother and your father show up in your actions and your thoughts? I`m pretty sure I inherited my dad's drive and ambition, and I hope that I, at least sometimes, transmit some of the warmth and compassion that my mom embodies. 
www.rachelmercercellist.com